Life Selector is an interactive porn game. The concept consists of live action video with real models, but with a twist: YOU control the action. This role playing element is what makes Life Selector so innovating and immersive: you are part of the action and you choose what happens next.
in a hurry? jump to:
Life Selector – what is it?
The concept of Life Selector is as simple as it is unique. It's essentially a "choose your own adventure" game, but for porn.
In the interactive Life Selector game, you get to make all the decisions. Once you've decided how the story should proceed, you get to see the events unfold from a POV perspective.
The key innovation here is, of course, immersion. You are in control of the narrative: you've evolved from a passive observer into someone who plays an active role in the production.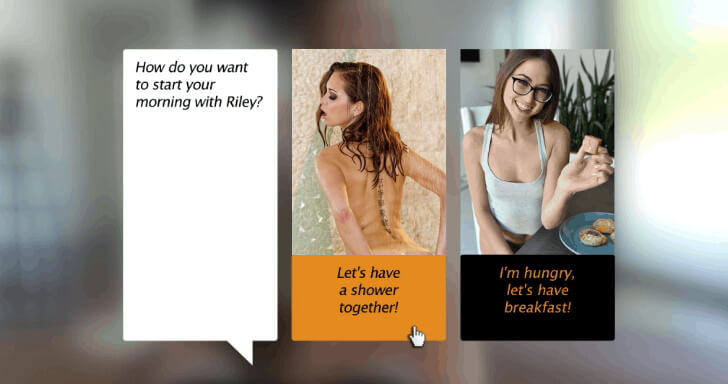 At certain points, the video will pause, and you will have to make choices, like in the example above. Do you hop in the shower, or do you delay the pleasure by having a nice breakfast together first? As soon as you choose, the video will continue on your selected path.
The scenarios you can play (there are over 2800 of them already) are quite varied. Personally, I find the 'girlfriend experience' type of stories – of which many are available – are very well matched to this type of play style, but to each his own.
The game itself is entirely website-based, so there is no need to download or install anything. Membership itself is free, so you don't have to worry about your videos expiring – everything you've unlocked previously and the stories you've created will remain accessible in your account forever.
Life Selector is a unique concept which will appeal to many. It allows for a great degree of immersion in a series of well-executed scenarios featuring the most famous models. What's not to like?

Pros & cons
Pros
real interactive: users are in control of the action
amazing cast: over 250 famous models to choose from
new shows every week: over 2800 of scenarios to play
relive the videos you've made: purchased scenarios stay yours forever
unique concept: there's no real competition
mobile-responsive design
the Credit Format Works Well With This Site
easy to use
Cons
the narrator's voice is not great
no advanced search
Limited free videos
Some adverts
SD resolution on most videos, no true HD
Have to read the captions upon making your choices
No VR support at the moment

Pricing – Life Selector game
Life Selector works with credits, instead of a subscription model. You use credits every time you make a decision in a scene. Each of these decisions costs 6 to 15 credits on average.
One-off pricing*:
$ 9.95 for 105 Credits
$ 14.95 for 205 Credits
$ 39.95 for 1050 Credits
$ 59.95 for 2100 Credits
$ 99.95 for 5250 Credits
Monthly recurring pricing*:
$ 29.95/months for 525 monthly credits + free access to It'sPOV (website aff link)
$ 39.95/months for 1000 monthly credits + free access to It'sPOV (website aff link)
$ 49.95/months for 2000 monthly credits + free access to It'sPOV (website aff link)
Payable by credit card, Paypal, GiroPay, Neosurf, Paysafecard, bank transfer, Gift Cards (like Wal-Mart or Best Buy), various cryptocurrencies.
Payments are secure thanks to 2048 bit SSL encryption.
*These prices were correct at the time this article was written, but are subject to change.

Regular updates – enourmous cast
Life Selector now has well over 2800 movies. They update on a weekly basis. To illustrate, 256 movies were added in just the last eight months. They also have over 1200 high-resolution photo sets.
Most shows have a run time of well over thirty minutes.
The cast is enourmous: it consists of about 300 girls. Litterally anyone who is anyone in the industry is available on Life Selector. You'll recognize household names like Mia Malkova, Adriana Chechik, Elsa Jean, Dillion Harper, Keisha Gray and Riley Reid, to name but a few. A full list of all available models is available on the website.

Ready to give Life Selector a try? Visit the official Life Selector website!
Conclusion
Life Selector offers a unique experience that no other website can compete with.
To be completely fair, a few have tried. The competing site iDesires was recently taken over by Life Selector, and the only other site offering an 'choose your own adventure (CYOA)' interactive experience is Saboom. However, there are much fewer scenarios available, and they hardly have any big name stars.
As far as CYOA porn goes, Life Selector is the only game in town. And it does it with panache. With a unique concept,  thousands of scenarios, and hundreds of famous models, it stands unchallenged.
The only thing I would with for the future is full VR integration. Imagine not only being part of the show, but also being INSIDE the show? Now that would make for a truly amazing experience! But, who knows what the future will bring for the Life Selector game?
Ready to give Life Selector a try? Visit the official Life Selector website!

Tech specs for the Life Selector game:
No download required – video streams directly in-browser.
We recommend using PC's/Macs for best experience – however, Life Selector game can be played on certain tablets and smartphones
Windows users:
Recommended browsers: latest versions of Mozilla Firefox and Google Chrome. Get them at http://www.mozilla.org/en-US/firefox/ and https://www.google.com/intl/en/chrome/.
Requires Adobe Flash Player. Get it at http://get.adobe.com/flashplayer/
We also recommend to get the latest drivers for your video card.
NVIDIA: get it at http://www.nvidia.com/Download/index.aspx?lang=en-us
AMD: get it at http://support.amd.com/us/gpudownload/Pages/index.aspx
Mac users:
Recommended browsers: latest versions of Mozilla Firefox and Google Chrome. Get them at http://www.mozilla.org/en-US/firefox/ and https://www.google.com/intl/en/chrome/.
Thanks to Windows Media® Components for QuickTime, by Flip4Mac™, Windows Media files (.wmv) can be played in QuickTime Player. Windows Media content can be viewed on the Internet with a Web browser. http://www.telestream.net/flip4mac/overview.htm
Technical details:
video stream: h264 high profile video stream, level 3.2
audio stream: mpeg-2AAC audio stereo, 48khz, 128 kbit/second
resolution: SD 640×360 (16:9)
file type: mp4
frame rate: 25p – 30p – 50p
bitrate/settings: 1500-2000 kbit/second

External links:
Don't just take our word for it! There are many external sources where you can find information about the Life Selector game. You can find links to some of them right here: